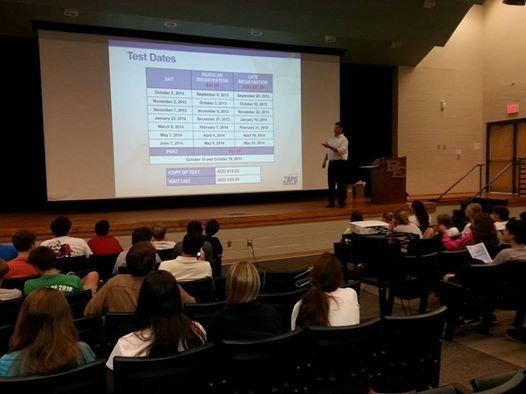 ZAPS test-preparation Strategy Seminars — and Webinars — have been proven to
help raise students' scores on the ACT, PSAT, and/or SAT. 
BRING ZAPS TO YOUR SCHOOL
By hosting a ZAPS seminar, you give your students a high-quality, affordable opportunity to improve their scores on the ACT or PSAT and SAT. And you give yourself a worry-free experience with a company that has your best interests in mind.
To learn more about ZAPS or to schedule a Strategy Seminar — or a Strategy Webinar — at your school, email ZAPS, or call us toll-free at 1-877-927-8378. We look forward to helping you find the best solution for your school.
"This is one of the easiest references I've had to complete.
All 10's of course!!! Your product, price, availability, flexibility,
professionalism have proven time and time again to be a 10!"

~Mary Buscema
Williams Field High School, AZ

We make IT EASY FOR YOU
We know you're busy. (In fact, we realize that's a serious understatement.) That's why our staff does our utmost to take the work out of hosting a ZAPS seminar.  
Here's all we ask you to do:
Work with us to select a date and time for your seminar.
Help us secure an appropriate space. 
Provide us with mailing information or address labels. 
Or, if you prefer, we will ship the postage-paid mailers 
to you, so you can label them and drop them in the mail.
Include information about upcoming seminars in daily 
announcements and email blasts
ZAPS does the rest.
Thank you for all your company does! ZAPS 
always goes above and beyond my expectations. 
Evangel Christian Academy is proud to say we 
partner with you for our student academic success.
~SHELBY RAY, GUIDANCE AND COUNSELING ASSISTANT
  EVANGEL CHRISTIAN ACADEMY, AL 
SCHEDULe YOUR SEMINAR or Webinar
Your regional manager will work with you to schedule a seminar shortly before the majority of your students take the ACT, SAT, or PSAT. Each five-hour seminar can take place as a full-day or a two-day option. Or, host a Strategy Webinar at your school. We'll be glad to walk you through each different option, including the features, advantages, and benefits to your school and your students.
Contact us at seminars@zaps.com or webinars@zaps.com. Or, call toll-free at 1-877-927-8378.
QUESTIONS?
If you have questions, please give us a call or click on the following links:
 READ FAQ for Parents
 READ FAQ for Students